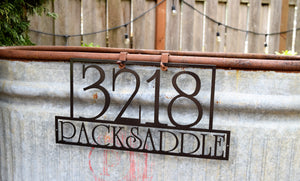 Address Signs
---
Focus on your home signage for a few minutes and save your life and property in the future. The best reason why you should get an address sign is to make it easy for the 1st responders-fire, police, medical personnel to reach you!

Look at your home as if you have not been there-can you EASILY see your address sign? Make sure you have street address numbers that can easily be read from the street - day or night. If someone is driving by your house, can they see your address? Make sure the address sign is not hidden by foliage or building obstructions. White against a dark background is more visible with large block font.

More common might be that you've order your favorite food, and the food delivery drivers can't seem to find your home. They drive up and down your street, playing a type of treasure hunt game to find your house or even harder a condo or apartment. Don't make it hard for your food to get delivered – at least to you. It's time to get your custom metal address sign from our Shop in the Salem area.

Select a metal address design that is either vertical or horizontal, modern designs with a simplified font or traditional designs with flourishes. Address signs from our Salem area shop come with custom house number and name options.

Your custom metal address sign for your home in Salem or anywhere across the US comes with pre-cut holes in all 4 corners for hanging with your own nails or screws. Installation of your metal address sign is easy and is made from steel. All the metal address signs and plaques we create in the Salem area are personalized with your own house number and will make a great addition to any front porch or mailbox.