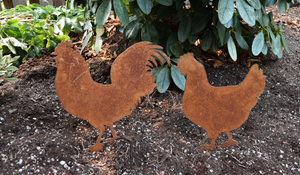 Animal Decor
---
We offer custom metal animal yard art and signs from our Salem area shop. If you are looking for metal animal yard art such as chicken yard stakes or metal ducklings garden stakes all in a row - we've got decorative yard art for you! If you love farmhouse or country decor, check out these decorative metal animal yard art, wall ornaments, and garden sculptures for your home in Salem or anywhere across the US - metal cow, chicken, or pigs. Any of your favorite animals can come with a garden stake "pre-attached". Bring your country decor inside and add rustic metal farmhouse signs to the walls of your bathroom, kitchen, and porch area for a genuine vintage look.

Looking for a gift for the hunter in your life? Our shop in the Salem area designs metal animal yard art for hunters or you can customize the ideal gift for the big hunting fan in your life. You know your pop or granddad will love a gift that's related to his favorite hobby for his birthday, Christmas, or Father's Day. Let's not leave out the mom's and sisters who would enjoy a gift to commemorate her favorite outdoor life hobby. You might be asking yourself: "What are the best gifts the husband who loves to hunt?" We've designed amazing hunting decor ideas that will make one of his, or her, favorite hobbies better than ever before!

Our metal signs and animal yard art from our Salem area shop are a big hit! Check out the decorative metal welcome sign with antlers or personalize your metal sign with your family name. Metal deer antlers with family surname and established date is the perfect addition to any cabin, ranch or family home that loves the great outdoors!

Let's not forget about our four-legged pets with metal animal wall ornaments and garden sculptures at our Salem area shop - "Love is a Four-Legged Word." Dog lovers will appreciate a Pet Paw Metal Decorative Signs.