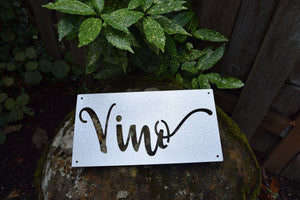 Beer & Wine
---
Let's raise a glass to decorative metal signs! Whether you're a wine lover or you know someone who loves to pour a cold glass of beer or pull the cork off a bottle of wine - you just might enjoy our custom metal beer and wine signs in your Salem home or anywhere across the US. And if you have a mini-bar, home bar, man cave, or wine cellar dedicated to your favorite beverages, we have decorative wall art for you! Our ready-made metal beer and wine signs from our shop in Salem or your own custom designs are the perfect artwork for you to decorate that cellar or bar with! Whether your fancy is beer, wine, or something a little stronger, CCR metal beer and wine signs from our local Salem area shop are perfect when you're thinking about adding a little aesthetic decor to your mini-bar, man cave, office, study, den, or wine cellar.

Raise a glass! Cheers to us! For beer nerds, sommeliers, and all those who enjoy exceptional adult beverages, our wine and beer themed metal wall art is the perfect collection for you. Check out our wine metal wall art selection for the very best in unique and custom pieces.

Need something custom? We create rustic steel wall art and decor in the Salem area that depicts wine bottles, wine glasses, grapes on vines, and swirly wire accents. Each piece is an easy-to-hang metal design with your choice of finish.